AAAAHHHH...I Love Fall
Hubby and I went for a drive in the Cleveland Metro Park last week. I wanted to show you some pictures we took. I love the cool air and the rich colors that fall brings. One of my favorite things is to walk the hiking trails when the air is crisp and the leaves are falling. I would give almost anything to be able to do that this year,but it's not going to happen. At least I have a few pictures and the hope of maybe next year.
OK...I'm done feeling sorry for myself. (Sorry about that.) I hope you enjoy these pictures as much as I do...
I mentioned a little while ago about making a sweater on my ISM...well, I wanted to show you at least what the colors were like. I know the picture isn't very good, but at least you can get the basic idea. I love the colors in this yarn. They remind me of the colors of fall, deep and rich. I only have the back finished for now.
My ISM sweater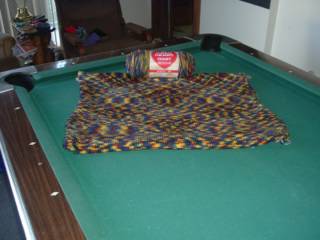 I am working on a sweater for hubby. A nice simple St.st. pullover in heather blue. I just have one sleeve to go, the neck band and seams then it will be finished. I can't wait to finish either project. I had started mine first, then hubby started hinting he would like a sweater so I gladly put mine on hold. Hubby isn't the kind of guy to ask me to make him something, so when he hinted at it I jumped at the chance. I have been making a lot of dumb mistakes with this machine. First I made a sleeve, got to the end and realized I did the decreasing wrong...so I had to frog it. Then I finished it and realized i put it on inside out...so, I frogged it yet again. Now on to the second sleeve... I put it on the right way, but, did the decreases WRONG AGAIN!!! So it is sitting on my machine waiting for me to frog this sleeve and start it again. I will get this right yet! (Oh...added bonus, hubby said he would think about letting me take his picture in the finished sweater. Who cares about the sweater, I want the chance to show off hubby...He's just so handsome!!!) ;)
On my needles right now is a sweater the same style as mom's but a different color. I just started it so when I have a little more done I will take a picture to show you. It has been a little rough the last few days...My last doc visit he changed my meds around and I have really been feeling it. I am normally not a fast knitter but now I'm a really SLOW knitter.
Thank You so much for the comments on my last post. I have had a few people ask how I did the hat so here it is...
My Hat
size 13 needles (US)
Lion brand fun fur
worsted weight acrylic (colors match)
cast on 56 st. k2 p2 all the way across for 6 inches.(flat knitting)
cast on 14 more and join to knit in the round (keep going k2 p2, mine didn't match up but I faked it and it doesn't show)
Keep knitting till it's tall enough to cover the whole top of your head.
While still on the needles, cut thead making sure you leave enough to pull through all stitches and gather togther at the top.
Turn inside out and knot.
I think the gathering at the top gave it the lift. If you have questions,please leave me a comment and include you email address and I will try to answer them.
Have a wonderful evening!!